The number of coronavirus infections has been rising for weeks. In order to flatten the curve and prevent the health system from collapse, most European countries have returned to a temporary lockdown and mandated face masks in an increasing number of environments.
DEBATIN's certified* COVID-19 face masks are delivered with a copy of the test report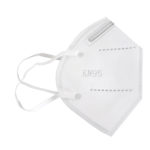 In Germany, the government has not only closed down various business segments in order to curb the coronavirus pandemic, but has also asked everyone to follow four basic rules: to keep their distance, wash their hands, cover their face, and air rooms regularly. Similar rules have been introduced in most European countries. People are generally required to wear masks in public spaces, particularly in places where it is impossible to keep sufficient distance (1.5 m) from others. Face coverings and non-medical masks that cover the mouth and nose are deemed acceptable, but do not offer the same level of protection as masks that protect the wearer as well as those around them – as do DEBAMED® SARS-CoV-2 coronavirus masks.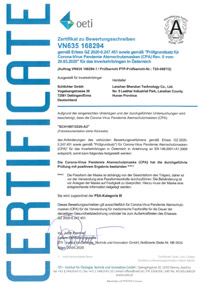 Our longstanding partner and supplier Schlichter GmbH, a company based in Dettingen an der Erms, commissioned the accredited testing and certification institute OETI (notified body no. NB 0534) to test our masks in their Vienna centre and approve them for use by health professionals. A copy of this certification is enclosed with each delivery so that you can present it as evidence to your customers if required.
Certified masks are the safest option – many alleged FFP2 masks have never been tested
Masks are not all equal, as clearly demonstrated in a recent documentary item, broadcast on 26 October on German television. The producers purchased face masks from pharmacies and sent them to a laboratory for testing. The alarming result: one in two face masks failed the test. Many of the FFP2 masks currently circulating in Germany have never been tested, while others have undergone nothing more than superficial testing.
To guarantee protection for yourself and others, experts strongly recommend you only buy and use masks that have been subjected to extensive testing. Where possible, you should use masks without vents, because such masks protect the wearer but don't necessarily keep people nearby safe. Numerous airlines prohibit the use of masks with vents.
Particulate filter masks protect you and the people around you
To protect others as well as yourself, the best alternative is considered to be COVID masks – certified* SARS-CoV-2 face masks (coronavirus masks). In light of the pandemic, the approval procedure for these masks was fast-tracked.
The fact that DEBAMED® SARS-CoV-2 coronavirus masks have also been approved for medical use speaks volumes about their quality and performance. Ernesto Bauer, Head of Export Sales at Anton Debatin GmbH, explains, "Our masks protect the wearer, and they also protect the people we encounter. This is especially important in places where lots of people meet and interact." In short: Our certified* SARS-CoV-2 coronavirus masks protect both sides, the wearer and people near them, in equal measure.
Product features:
Folded particulate filter mask
Type: KN 95
Individual or packs
Colour: White
Protection: Certified KN95 SARS-CoV-2 face masks (coronavirus masks)
Easy to use and comfortable to wear (flexible nose clip, soft edges)
Single use
Minimum order quantity: 50 pcs
Also in stock: Triple layer DEBAMED® disposable face masks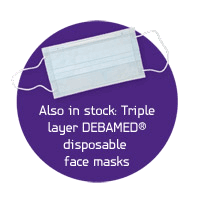 Our triple layer DEBAMED® disposable face masks, which come in a handy dispenser box, are ideal for all situations where non-medical masks are considered adequate. This mask reduces the airflow when you exhale and prevents saliva droplets – which could contain virus pathogens – from escaping. This primarily protects the people around you. In order to protect yourself from being infected by viruses or bacteria, you should opt for protective equipment such as the DEBAMED® SARS-CoV-2 coronavirus masks detailed above.
As an additional precaution, we recommend you install a DEBAMED®dispenser. This dispenses gel or liquid disinfectant and is operated via a foot pedal to completely eliminate the need for hand contact.
Order your certified* COVID-19 masks directly from DEBATIN!
Take action now to comply with the stricter rules – and send your order without delay to vertrieb@debatin.de
or call us on +49 7251 8009 100.
By including these new products in our portfolio, we hope to play our part in helping you to master the current situation.
Stay safe!
---
* OETI (Notifizierte Stelle Nr NB 0534, Austria) declares: Based on … the examinations carried out this is to certify, that the Corona Virus Pandemic Respirator (CPA) … corresponds to the requirements of the shortened assessment process in accordance with … enactment GZ 2020-0.247.451 as well as according to "Test principle for Corona SARS-Cov-2 pandemic respirators Rev O dated 20.03.2020" for placing on the market in Austria based on EN 149.2001+A1 :2009, the following can be stated: The Corona Virus Pandemic Respirator (CPA) passed the test with a positive result.
The Regional Administrative Council (Regierungspräsidium) Tübingen (germany) confirms: The CPA quick test was passed and then evaluated by a notified body. Thus, requirements comparable to those valid in Germany were fulfilled.