Our threefold commitment:
Our Campaign for Sustainability

We are all aware of current environmental themes such as global warming, marine pollution through plastic and excessive use of resources. It's clear that we need to fundamentally change our way of thinking; the status quo cannot continue.
As a manufacturer of packaging materials, we are greatly concerned about these issues. We are totally aware that our products need to be subjected to a critical examination. For this reason, we are working hard to ensure that our products are manufactured and used in a manner which is as environmentally neutral as possible. We want to take responsibility and play our part in improving the environment.
DEBABEE, our environmental ambassador, explains our approach here step by step.
DEBABEE – symbol for biodiversity and for the protection of natural habitats and resources, and mascot for our sustainability campaign. Always as smart and busy as a bee :).
We use the following eco-labels with pride:

Carbon neutral company and products
As in all processes, CO2 is emitted during the extraction of our raw materials and the manufacture of our products. By saving energy wherever possible and optimising the efficiency of our production processes, we try to keep this output to a minimum. We compensate for any CO2 we emit by supporting climate protection projects. In doing so, DEBATIN does far more than simply compensate for its own production processes. We also include the manufacturing of our raw materials – foils, paper, glues etc. – in our calculations. This approach is known as "Cradle to Gate". In other words, from the moment the raw materials are extracted (cradle) to the moment the finished products leave our factory (gate), we compensate for all emissions – and can thus class our production as carbon-neutral.
Use of FSC

® Paper
Our environment offers valuable resources, which must be treated with respect and be protected at all costs. For this reason, we only use paper from exemplary FSC®-certified forests and other controlled sources. 
By choosing FSC®-certified wood, we help to protect our forests and their unique ecosystem, and play our part in ensuring responsible forest management. In this manner, we hope to combat illegal deforestation and stop forests from disappearing.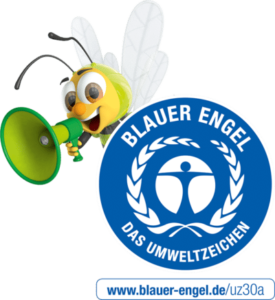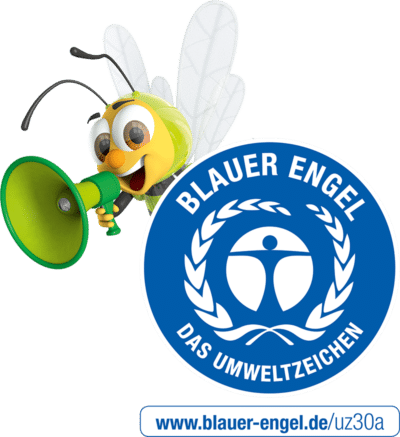 Extension of the sustainability offensive to security bags as well
We already started in 2017 to switch our standard goods in stock to Blue Angel quality..
Since 2018 we've expanded our work on behalf of the environment by starting the DEBASAFE® sustainability campaign and by also upgrading DEBASAFE® bags to Blue Angel quality, which hugely increased the proportion of our safebags classed as resource-saving. Our brochure entitled "Our campaign for sustainable security bags" provides information on products which are climate-neutral and certified (Blue Angel) as well as information on our sustainability campaign.
Use of recycled foils
Together with selected partner companies, we are working on a recycling loop for foils. To make recycling easier, we refrain from using foil laminates and compound foils wherever it is possible. Instead, virtually all the foils we use for our document pouches are almost exclusively recycled.
Increasingly, we are using recycled foils and giving them a "second life". These form the basis for new, innovative and sustainable products. After use, these products can join the recycling loop once again. This is an important step towards saving resources and protecting the environment.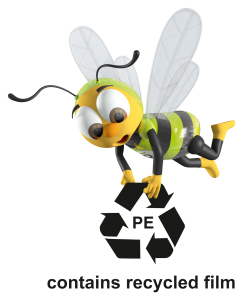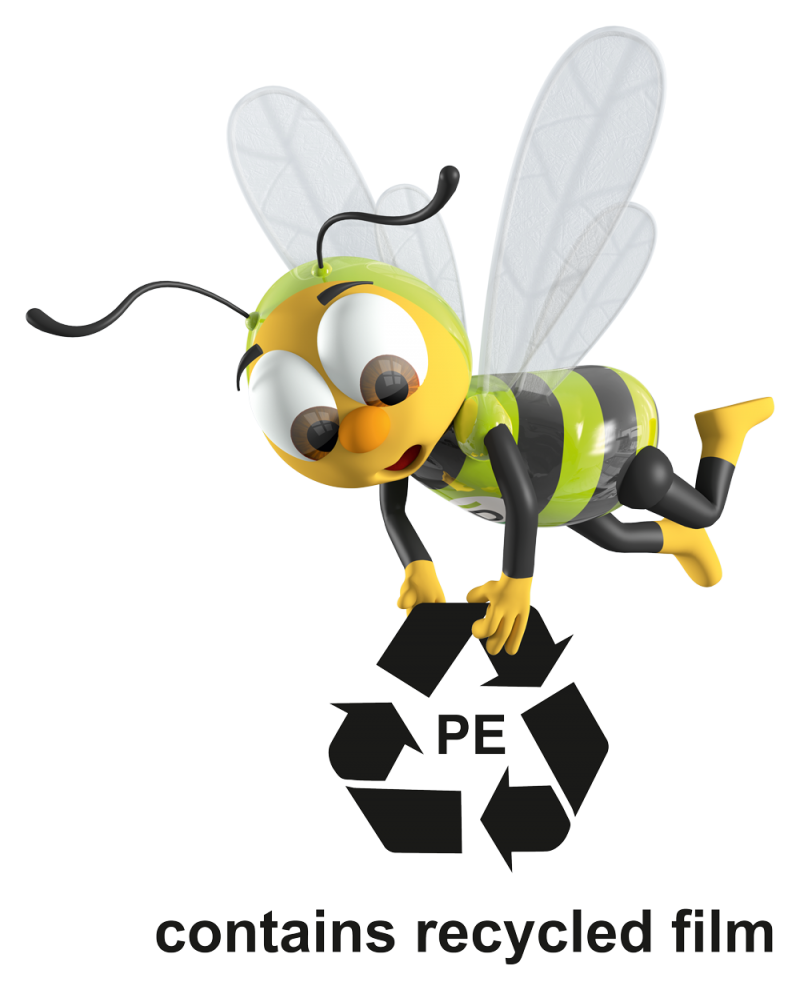 Our own recycling loop, the DERIBA cycle.

All members of the DERIBA Group pursue a common goal: as manufacturers who use plastic in the packaging we produce, we're passionate about establishing a circular economy for the industry. To this end, the Group uses its own recycling loop to generate sustainable materials for new films, in keeping with "cradle-to-cradle" design. On request, we supply customers with our recycling kit so that they too can play their part and further the cause.
Click
here
to calculate how much you reduce your carbon footprint when you use our sustainable products.
DERIBA GREENLINE film, a product developed by the DERIBA Group, even has an eco-label of its very own: the DERIBA GREENLINE® label.
It's a guarantor for high quality, sustainable packaging. The film is made of at least 80 % PCR material in Blue Angel quality and is up to 100 % recyclable, producing a recyclate with an exceptional degree of purity.
In the course of our sustainability campaign, we support various programs such as water power projects in India and Uganda as well as various social and environmental projects in Togo.
For example, we've been involved in reforestation work in Togo, planting 3000 indigenous trees, and have also provided 40 beehives for the local beekeeping school. These beehives are manufactured locally, which has helped provide workplaces and keep business brisk at the bee-keeping school. Every year, the school trains up to 12 beekeepers who can then set up their own business and support a family with just five beehives. All the current beehives are now populated, and more are set to follow. Honey bees are not only very hard working – they're also extremely useful for us humans. Did you know that a single honey bee has to fly around the earth three times in order to produce 500g of honey?
Our DEBABEE is particularly excited about the establishment of a beekeeping school to promote beekeeping, which has virtually died out in this area.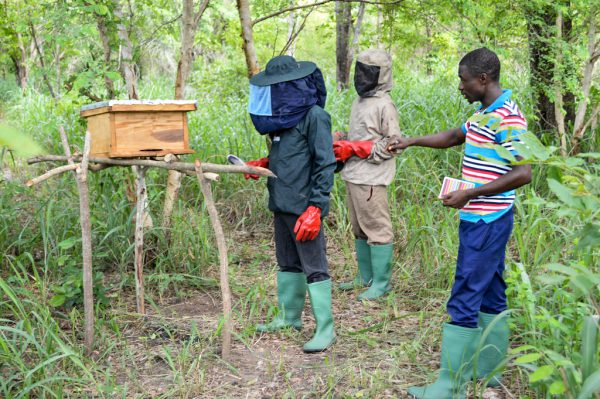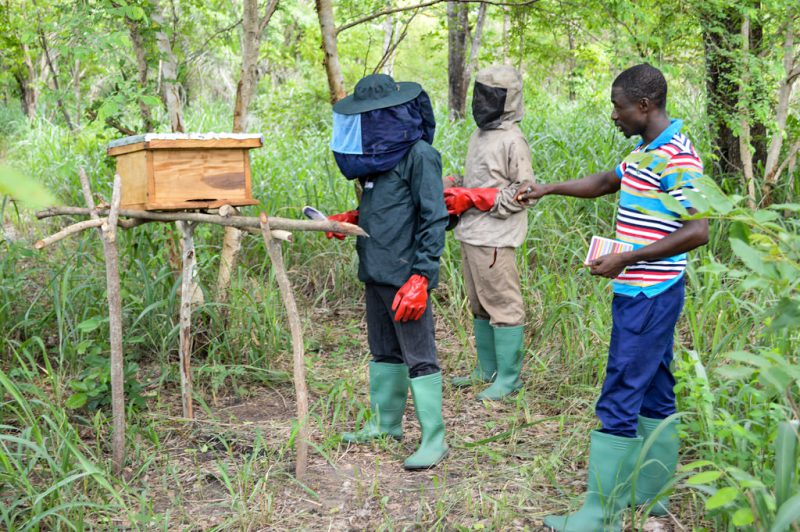 All these projects centre around nature conservation, the protection of the environment and the impact of climate change on people and nature.
You can find our concrete activities at www.natureoffice.com by entering our ID number DE-077-537721 at [TRACKING ID].