DEBAMED® Speci-Bag can be used for transporting substances internally around hospitals, or as external secondary packaging for transporting samples of biological substances category B (UN3373) in compliance with the international and European Guidance on regulations for the transport of infectious substances (ADR – WHO – ISO 15189).
Leakproof transport solution with additional document pouch for forms
Easy to handle and quick to open (no risk of injury)
Suitable for single-use
Tested by an external test lab in accordance with packaging instruction P650 for ADR class 6.2
Polyethylene – low environmental impact, 100% Original
165 x 265 mm (A5 size), 2,000 pcs per box
245 x 345 mm (A4 size), 1,000 pcs per box
380 x 435 mm (A3 size), 500 pcs per box
All:
Product-specific versions:
Without print
Coloured field
Black print
Instructions in 4 languages (French, English, German, Spanish)
Strong, leakproof adhesive closure
2 tear notches on the left and right side of the bag (easy to open – no knife or scissors required)
Personalised print (logo, name, address, colour) (minimum order: 10,000 pcs)
Customised size (minimum order: 10,000 pcs)
Absorbent liner (as insert or supplied separately)
Without document pouch
Supplied in blocks (of 50 or 100 pcs)
Bags can be manufactured and printed in a choice of colours
Labels with the UN3373 logo printed in accordance with ADR guidelines for outer packaging available.
Country of origin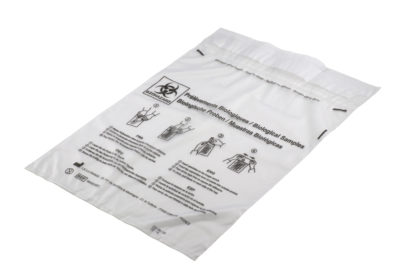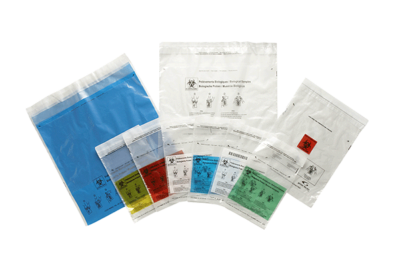 DEBASAFE® medical
for the transport of diagnostic samples
DEBASAFE®-medical for the transport of diagnostic samples in accordance with the Ordinance for the Transportation of Hazardous Substances. These transport bags are made of special, extremely tear-proof polyethylene film, and have a pre-fixed tamper-evident sealed closure, simplifying the transport of diagnostic samples and biological substances whilst maintaining strictest security and safety standards.
DEBASAFE®-medical bags are used as secondary packaging, are liquid-tight (BAM approved) in accordance with legal requirements (ADR, packaging regulation P 620/650).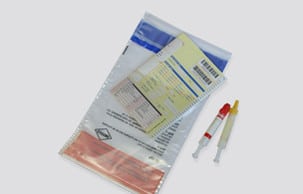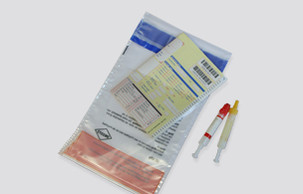 DEBASAFE® overview of features::
liquid-tight version (BAM approved) in accordance with legal stipulations
for the transport of category 3 diagnostic samples / biological substances
made of special transparent film
welded seaming: double shrink seam
up to 6 colour flexo-printing upon request for customised designs
special version with document pouch available
Convenient self-adhesive closures, consecutive numbering, barcodes, clear labelling of content and correct handling simplify safe and secure transport.
In addition, a document pouch can be placed on the back of the security back to hold accompanying documents or laboratory cards.
DEBASAFE®-medical – Sicherheitstaschen für diagnostische Proben von DEBATIN – made in Germany!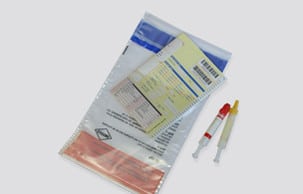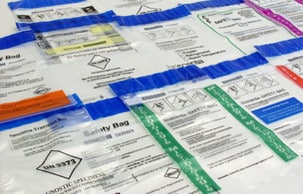 DEBAMED® Zip-Bag with document pouch
DEBAMED® Zip-Bag for transporting samples of biological substances. The bag features a pouch for accompanying documents.
Made of polyethylene – low environmental impact
Food safe
Standard range
Item no.: 920H0000060
Quantity: 1,000 pcs per box
Colour: Transparent
Dimensions of samples bag: 125 x 170 mm
Dimensions of document pouch: 125 x 160 mm
Item no.: 920H0000061
Quantity: 1,000 pcs per box
Colour: Blue
Dimensions of sample bag: 125 x 170 mm
Dimensions of document pouch: 125 x 160 mm
Item no.: 920H0000063
Quantity: 1,000 pcs per box
Colour: Red
Dimensions of sample bag: 125 x 170 mm
Dimensions of document pouch: 125 x 160 mm
Item no.: 920H0000064
Quantity: 1,000 pcs per box
Colour: Transparent
Dimensions of sample bag: 160 x 220 mm
Dimensions of document pouch: 160 x 200 mm
Item no.: 920H1022
Colour: Transparent, printed with Biohazard logo (black)
Dimensions of sample bag: 160 x 220 mm
Dimensions of document pouch: 160 x 200 mm
Item no.: 920H0000065
Quantity: 1,000 pcs per box
Colour: Blue
Dimensions of sample bag: 160 x 220 mm
Dimensions of document pouch: 160 x 200 mm
Item no.: 920H0000066
Quantity: 1,000 pcs per box
Colour: Red
Dimensions of sample bag: 160 x 220 mm
Dimensions of document pouch: 160 x 200 mm
Item no.: 920H0000067
Quantity: 1,000 pcs per box
Colour: Transparent
Dimensions of sample bag: 180 x 250 mm
Dimensions of document pouch: 180 x 200 mm
Item no.: 920H0000068
Quantity: 1,000 pcs per box
Colour: Transparent
Dimensions of sample bag: 230 x 320 mm
Dimensions of document pouch: 230 x 260 mm
Print on standard range
Item no.: 920H1022
Optional
Personalised print (logo, name, address, colour) – contact us for information on minimum order quantity
Custom sizes – contact us for information on minimum order quantity
Labels are also available printed with the UN3373 symbol in accordance with ADR regulations for outer packaging