When blood or tissue samples need to be sent to a lab for further analysis, there's always a risk that they could come into contact with pathogens or germs in the process. The samples could easily be contaminated during the preparatory stage, or whilst being handled by mail or courier services. And, naturally, the risks to human samples apply in equal measure to animal samples.
To mitigate these risks, all deliveries of samples – human or animal – are subject to laws and safety regulations for the transport of hazardous substances. In order to comply with these requirements, it's important to assess risks accurately, take appropriate precautions and select suitable transport packaging. 
State Veterinary Office needs ADR-compliant packaging for animal blood samples
The State Veterinary Office in our case study was looking to find ADR-compliant packaging for animal blood samples. They also wanted to be able to use the regular postal service to deliver the samples (inside said packaging!), which meant certain size restrictions needed to be taken into account.
Specifications:
Compliance with ADR regulations

Protection for employees receiving samples

As sustainable as possible 
We developed a special version of our DEBASAFE® medical bag based on these specifications. Measuring 195 x 310 mm, these custom fabricated bags are extra thick (90 µ) to withstand the handling involved in postal delivery. They are made from 85 % silver/white (opaque) coextruded PCR material, meaning they're also certified Blue Angel. As an added safety precaution in the event of any leakage, DEBATIN also included an absorbent fleece liner.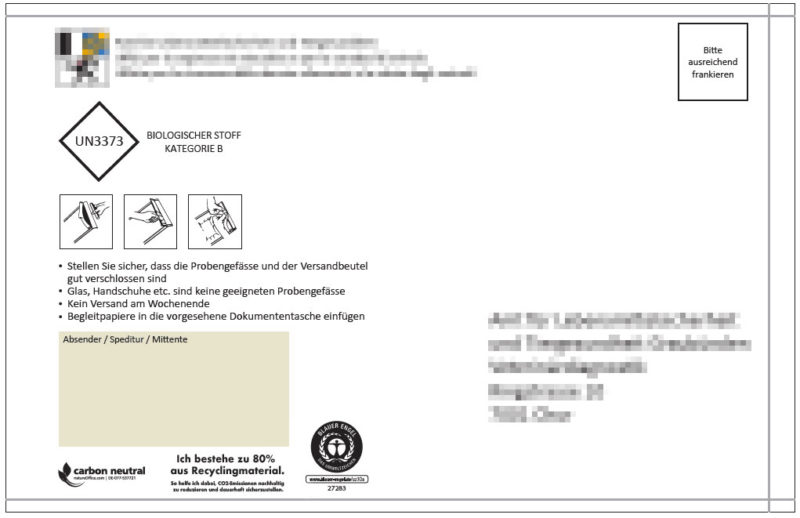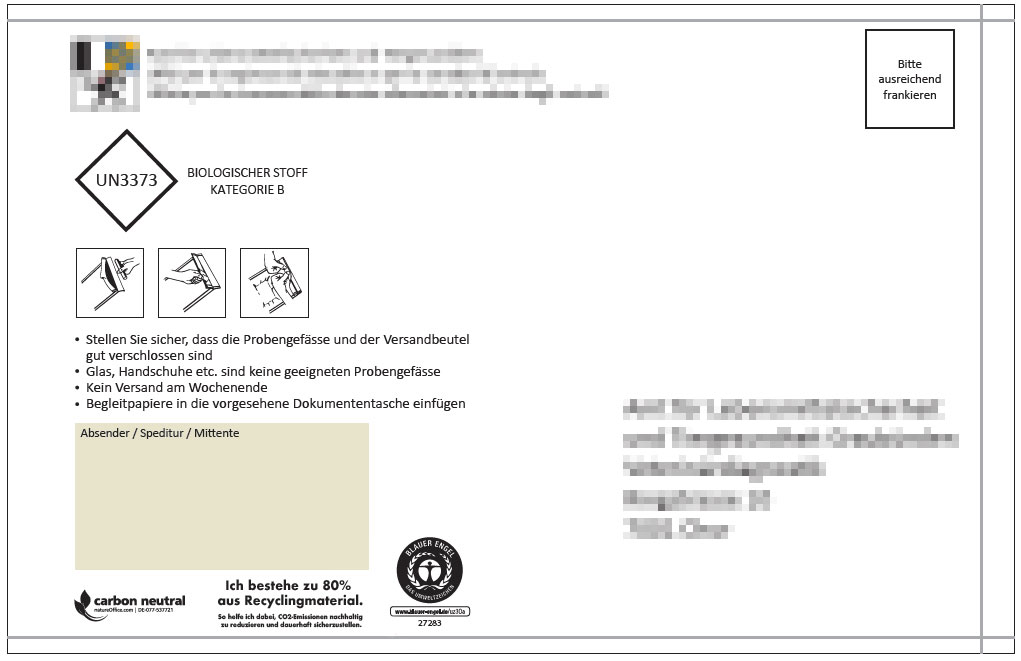 Advantages for users:
ADR-compliant packaging / leakproof

Ready to use: the pack contains everything the customer needs (bag + absorbent liner) 

Planet friendly: although the packaging is single-use, it is made of 85 % recyclable plastic waste (PCR material) so is certified Blue angel and carbon neutral.
DEBASAFE® medical: Extremely tear-proof, leakproof and ADR-compliant
Medical security bags and packaging for laboratory samples from the DEBASAFE® medical range were specially designed for transporting category B diagnostic samples and biological samples. The bags are leakproof and comply with the Ordinance for the Transportation of Hazardous Substances as well as with all ADR regulations. Made of extremely tear-proof polyethylene film, they feature a special security closure (various options available), consecutive numbering and a barcode, and offer maximum safety when packaging and transporting samples (e.g., via mail delivery). Last but not least, the content can be clearly labelled.
Features of DEBASAFE® medical:
BAM-certified leakproof design

For the transport of diagnostic samples / biological substances, categories 1-3

Extremely tear-proof, transparent polyethylene film

Welded seam: shrink seam

Flexo-printing (up to 6 colours)

Special version with outer document pouch available

Customer-specific sizes and printing on request
Do you require a customised shipping solution for delivering biological samples / hazardous substances?
Are you looking for a product or shipping solution that caters to special requirements? 
Contact our sales team by phone on +49 7251 8009 100 or send an email to vertrieb@debatin.de.
We'll be very happy to advise you and provide you with a personal quote!