Second Life in a nutshell:
We don't believe that films and plastics are always inherently evil, or that paper is always necessarily the better option. It's the way we handle them that matters. That's why we focus on keeping the amount of raw materials we use to a minimum. Within the DERIBA Group, we've also established our own recycling loop – the "DERIBA CYCLE".
Plastic or paper packaging? Both have advantages and disadvantages.
When asked "Is plastic bad and paper good?", most of us tend to think paper is the more environmentally-friendly option. Because the production of plastics requires crude oil; plastics can take centuries to decompose; and microplastics not only contaminate our oceans, but are also finding their way into the food chain and hence into our bodies. Paper, on the other hand, is made from wood, can be recycled, and decomposes quickly. However, people frequently forget that it takes far more energy to produce paper, not to mention a large quantity of wood – for which new trees need to be planted and given the time to grow. Air and water are polluted by nitrogen oxide, sulphur dioxide and other chemicals. So the environmental footprint left by paper is neither better nor worse than that left by plastic – and the question between "good and bad" is not as cut and dried as many would like to believe.
Handling resources, raw materials and waste in a responsible manner
We believe that the key lies in acting responsibly. For this reason, DEBATIN has, for several years now, prioritised recycling, reusing and protecting resources. For example, we've developed the DERIBA recycling kit and the DERIBA CYCLE, our corporate Group's film recycling loop, to reduce waste, protect resources and make sure our packaging doesn't end up contaminating the environmnent. At the same time, they ensure the steady supply of high quality films from recycled waste. We also apply the same standards to our new paper products. Our DEBAPOST® Second life paper mailing bags, for example, are made of recycled paper and can be, for example, reused afterwards as bin liners for organic waste.
How exactly does the "DERIBA CYCLE" recycling loop work?
The DERIBA GROUP – consisting of the experienced individual companies Anton Debatin GmbH, Debatin SARL, Riba GmbH, pfc premium film company gmbh, HVB Hoch-Vakuum-Beschichtungs GmbH, L.E.S.S. France and BeRec GmbH – has bundled its expertise on various levels. One result is the "DERIBA CYCLE" recycling loop. BeRec, a plastic recycling company, plays a major role in this loop. Here, waste polyethylene is laboriously sorted, washed and granulated to create PCR (post consumer recycling) granules. These PCR granules are then sent to riba and turned into PCR film via an extrusion process. When this recycled film is used again, it is, in effect, given a "second life". Both riba and Debatin process the PCR films to make their tried and trusted packaging products – Debatin's DEBASAFE® and UNIPACK®, for example, or riba's peat fertilizer. Another important component of the DERIBA CYCLE is the DERIBA Recycling Kit which we offer our customers. This enables customers to collect polyethylene packaging waste and send it directly to BeRec, where it is channelled into the recycling loop.
Packaging always makes a statement
(Product) packaging is always far more than just a vessel for a product. It says a great deal about the intentions and ideals of the manufacturer and the customer. Depending on the purpose, we should always think very carefully about which packaging materials we use – not only for the protection they offer, but also for the values they convey.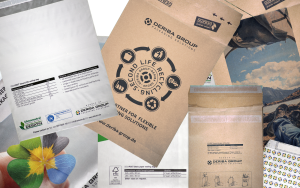 Curious? We look forward to welcoming you and chatting to you at the DERIBA Group exhibition stand (Hall 7/7-618) at this year's FachPack trade fair in Nuremberg, from 24th to 26th September 2019. We'll be very happy to answer any questions you may have and tell you more about the "DERIBA CYCLE", our new DEBAPOST® Second life, DEBAPOST® Basic and DEBAPOST® Premium mailing bags, or our environmentally-friendly DEBAPOST® Second life film bags – in certified Blue Angel quality. We look forward to meeting you!
We offer free visitor tickets. Please contact:
Nicole Burg
Anton Debatin GmbH
Vichystraße 6
76646 Bruchsal
Tel. +49 7251 8009 737
E-Mail nicole.burg@debatin.de