In an independent recycling assessment, DEBASAFE®, DEBAPOST® and UNIPACK® products recently scored an impressive 19 out of 20 points. Overall, the security bags, mailing bags and document pouches displayed impressive recycling potential, with just a single point deducted from the final score on account of the printing inks. The jury's conclusion: "Made for Recycling"! We're extremely proud of this result, which also applies (with just a very few exceptions) to all other products in the DEBASAFE® and DEBAPACKAGING® ranges.
Meet packaging law requirements with DEBATIN products!
According to the German Packaging Act ("VerpackG"), companies must achieve fixed recycling quotas and process their waste into quality recyclate. What's more, the quotas are set to rise. However, these goals can only be achieved if packaging is designed with recycling in mind right from the start. The law deems a product "recyclable" if it can be sorted cleanly and processed into recyclate.
DEBATIN products meet these requirements, thus enabling our customers to comply not only with German packaging law, but also with the new EU directive on packaging.
Our products were subjected to a detailed recycling assessment, conducted by Interseroh Dienstleistungs GmbH and its partner institutes (the bifa environmental institute and the Fraunhofer Institute for Process Engineering and Packaging), who then awarded us the certification.
DEBATIN's circular economy plays a key role in protecting resources and avoiding waste
The new German Packaging Act came into force in 2019, and its regulations have had a major impact in Germany. The new EU directive on packaging also had to be integrated into German law by the beginning of July 2020. In March 2020, the European Commission in Brussels adopted a new Circular Economy Action Plan.
For many years now, DEBATIN's corporate philosophy and product development strategy have revolved around the circular economy, using fewer resources, avoiding waste and carbon neutrality. Every year, we invest a six-figure sum in sustainability. "We do so out of conviction, and because we're very aware that we bear responsibility," explains CEO Thomas Rose. "For as long as we have the money at our disposal, we have every intention of continuing on this path".
By using monomaterials and PCR film (post-consumer recycled film), we're able to conserve resources and sustainably produce safe bags, document pouches and mailing bags. As a co-founder and member of the DERIBA Group, we're committed to the circular economy. We've even developed and implemented our own closed-loop film recycling system, the "DERIBA CYCLE®", to collect, sort and recycle used film and safe bags produced by the DERIBA Group.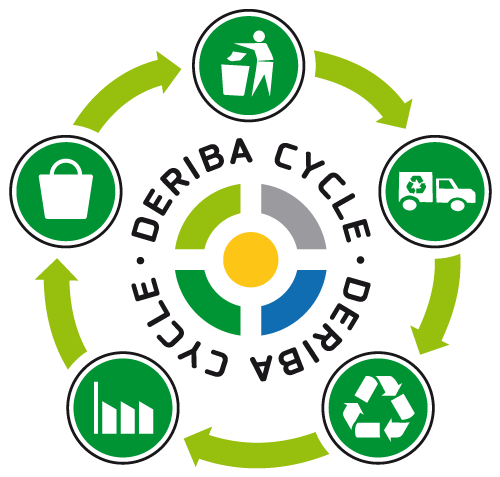 The recycled film is then used to make new "Second Life" safe bags and packaging. We've also developed the DERIBA recycling kit, allowing our customers to collect their waste polyethylene packaging and join in our recycling process. The result? We use fewer materials and emit far fewer greenhouse gases. And we can guarantee a steady supply of recycled film in excellent quality.
Film or paper? Which material is more environmentally friendly?
In actual fact, there's no clear and simple answer to this question: both materials have advantages and disadvantages. The following bullet points offer a quick overview of PCR film and recycled paper.
 POST-CONSUMER FILM – ADVANTAGES:

Saves resources by processing material which has been used before
Reduces greenhouse gas emissions
Complies with German packaging law & increased recycling quota
Generates a closed recycling loop
Multiple use → good film properties, similar to those of conventional plastics
Meaningful option for promoting recycling and combatting the problem of plastic
RECYCLED PAPER – ADVANTAGES:

Can be recycled up to 7 times
Saves resources by processing material which has been used before
Complies with German packaging law & increased recycling quota
Supports the already well-organised paper recycling loop
The manufacture of recycled paper requires approx. 60 % less energy and approx. 70 % less water than the manufacture of fresh fibre paper. It also emits fewer greenhouse gases and generates less waste
Recycled paper is biodegradable
POST-CONSUMER FILM – DISADVANTAGES:

Lower tensile strength than new film due to foreign matter such as printing inks
Labour-intensive manufacture: requires sorting, washing and regranulating
Foods should not come into direct contact with the film
Odours and inclusions may occur due to carbonisation of residues (e.g., labels and composite materials) that do not melt at the temperatures used in the recycling process (regranulation occurs at approx. 200 °C, film extrusion at >200 °C)
RECYCLED PAPER – DISADVANTAGES:

Every time paper is recycled, the fibres get shorter and the resulting paper is less strong
Reuse of recycled paper is subject to restrictions depending on the intended application
Recycled paper can only be manufactured to a high quality if the material comes from a quality source
Rise in price of raw materials in 2018 due to reduced availability of paper → This also impacts the price of recycled paper
Play your part in saving the planet: take action, conserve resources, reduce your carbon footprint
Are you interested in finding an environmentally friendly answer to your packaging needs? Do you want to reduce your carbon footprint and play your part in protecting our planet? First, use our fast, straightforward DEBATIN CO2 calculator to work out how much CO2 you save when you use sustainable products from our DEBASAFE®, DEBAPAC® and DEBAPOST® ranges instead of conventional products made of new film. Next, transition to DEBATIN's "Second Life" products or any of our products with Blue Angel certification.
If you have any questions, please contact our customer service. We'll be delighted to help!
Call us on +49 7251 8009 100 or send an email to: vertrieb@debatin.de.
"Made for Recycling" – what's next? The DEBATIN Sustainability Report, new procedures – and more!
Closed loop recycling, sustainable business practices, climate protection and mindful use of resources are already important issues in today's world, and they're likely to be even more important in the future. Accordingly, we expect legislation to get stricter. Rightfully so! We have no choice but to meet these requirements, but we do so gladly and willingly. That's why we (voluntarily) published our first ever Sustainability Report in the autumn of 2020. When it comes to sustainability and sustainable business practices, we place high demands on ourselves and on our products. And we're happy to be judged by our own standards.
Naturally, we have every intention of getting even better. We want to offer our customers the best possible solutions, so we're keeping a keen eye on the latest developments in the fields of recycling and sustainability. We're currently particularly intrigued by a new procedure – tested with success – to remove printing inks from plastic film before the film is recycled (the very issue that cost us the final point in the certification assessment mentioned above).
Another exciting development in the pipeline is Karlsruhe Institute of Technology's new research focus on "Sustainable production". The aim of the project is to help companies move on from linear production processes and develop new techniques in keeping with a circular economy.
Let's take action together for a sustainable future!